Rigid Collapsible Magnetic Closure Foldable Gift Boxes/Foldable Magnetic box/Flat shipped gift boxes.
The foldable magnetic box is a flat shipped option to save box order shipping cost, also can save storage room to store hundreds or thousands of pieces of setup gift boxes if they are in a big size.
It is also called collapsible boxes, they are the same style as the setup rigid magnetic boxes after assembling with the double-sided adhesive tape on the four corners of the box, very easy assembly. Collapsible/Foldable magnetic box is also the perfect way to save the shipping cost and avoid box damage during the shipment. Even though the production cost of this kind of box is a bit higher than the setup one, considering the convenience and advantages, Collapsible/Foldable magnetic box has become the most popular and fashionable design box type in recent a few years, widely applicable in the luxury brands such as LV, Gucci, Dior, Lancome, Estee Lauder, Guerlain, Lamer..etc. However, you might be interested how the collapible/foldable magnetic box has achieved the automatic production process and how are the processes?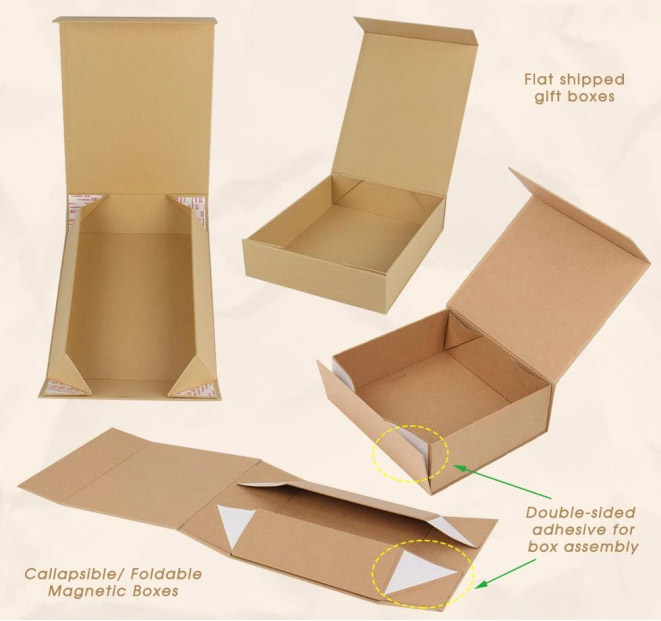 Production process:
Case Making → Case Lining → Collapsible Box Side Wings Making → Side Wings Assembling → Double Side Tape Pasting → Packing

The above Collapsible/Folable Magnetic Boxes are almost the common type, thus the process is not complicated and the process is also as simple as possible. During the whole process, the most important and essential machine would be the collapsible box wing machine to make the side wings, usually making the side wings by hand will take the longer time in the slow efficiency and the quality will be not so ideal compared with making on the machine especially for the higher requirements for the luxury packaging box, the supplier will request to be made on the machine considering the quality awareness and delivery time.

Regarding the collapsible box making machine, since 2015 ST Machiney has already provided the automatic solution for applying the collapsible box making, so far we have installed the collapsible box making machines for making the LV, Gucci, Dior, Lancome boxes as well as the other brands..etc both in China and overseas countries due to the multi-functions and great stablity..etc. Our popular model ST036XL Automatic Collapsible Box Making Machine can not only make the box cover case but also the collapsible box side wings, for the printing and packaging factories, it can still keep the value after investing in the machine if they do not have any collapsible box making order, still can be used for making the various kinds of cases..etc. So it has become the best choice for the printing and packaging factories if they are planning to enter into the collapsible box making..etc.