SHENGTU is the first one in the world to develop the unique ST040PP+MP Automatic Case Lining Machine+Magnet Pasting, it was launched to the market for the first time since Drupa 2016. So far it has received favorable reactions from the customers both at home and abroad. ST040PP+MP can automatically paste the magnet and also glue the endpaper; the production speed can be 2400pcs/h equaling to 2 times of the other models. Meanwhile, this machine can be applicable for double channel for running 2 pieces of hard case at one time, the speed can be 4800 pcs/h, which is widely used in stationery and packaging industry.
Non-stop feeding device can save the case feeding time greatly and improve the working efficiency, meanwhile it has adopted the feeder suction principle for protecting the hard case from being scratched.


Automatic magnet pasting device can automatically feed the magnet and metal plate as well as position and glue, fast and accurately it can replace 6-8 labors while doing this job by hand, therefore it has greatly saved the production costs.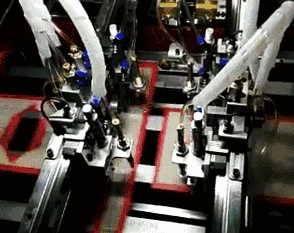 As for our "ST Extended Box", it can be automatically magnet plated as well as endpaper glued on ST040PP+MP. At the same time, it can paste only 1 magnet or part endpaper as per your personalized requirements.

Endpaper gluing device can glue various kinds of endpaper at 70-250 gsm accurately. This has adopted printing machine principle and cylinder press gluing process to make sure it can glue evenly and thin as well as the product quality.

At last, this machine can automatically count and stack. You can set the counted numbers as per your requirement and reduce the labor costs.